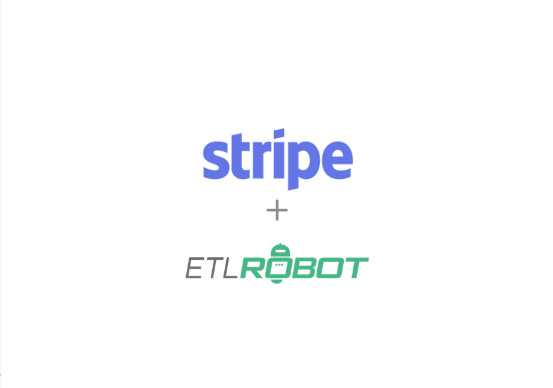 About
Stripe is a billing and subscription management SaaS solution. Businesses use this SaaS platform to simplify the billing process as well as leverage the benefits of subscription and recurring billing workflows. The platform is especially popular for mobile payments that allow small- and medium-sized businesses to accept payments anywhere, giving their customers more payment options. As one of today's most popular payment interfaces, companies use Stripe to make and complete digital transactions. These transactions contain a significant amount of data that can provide insights beyond payment information.
How the Stripe ETL Works
On its own, Stripe only delivers basic analytics about transactions. However, integrating a Stripe account with ETLrobot will deepen your understanding of customers, products, invoices, charges, subscriptions, coupons, transfers, and plans. The insights from your Stripe data will not just show monthly revenue generation, but it will also provide information about revenue origin, including sites, currencies, and customers. Also, putting your Stripe data in the same data warehouse as marketing, sales, and support data can provide a more comprehensive view of your revenue and business. Looking more closely at your subscription data within this environment can provide new insights about how marketing or support impact subscription sales.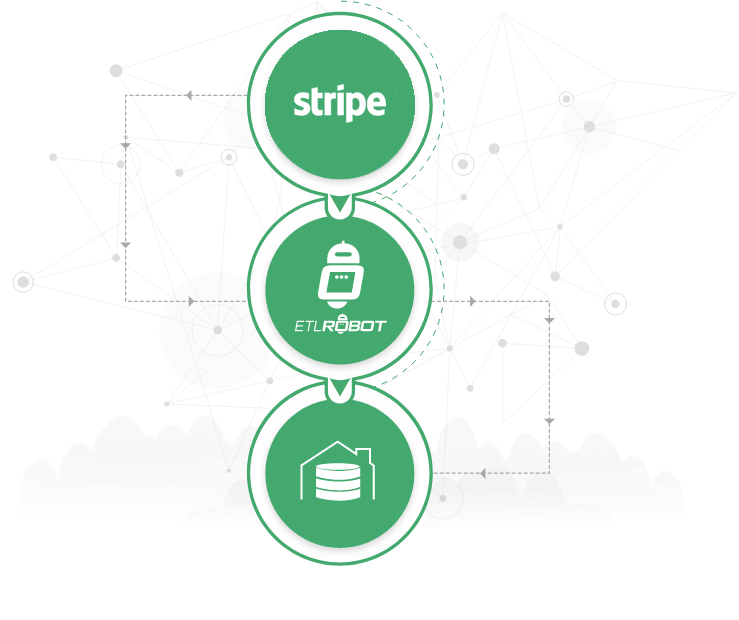 Frequently asked questions
Why should I integrate my Stripe data with ETLrobot?
This integration provides a way to build a comprehensive data infrastructure in minutes with no technical skill. Not developing this from scratch saves time and money so you can focus on your business while getting a continual stream of accurate, real-time data to enhance your business intelligence.
What are the use cases for the Stripe and ETLrobot integration?
There are many ways you can leverage this Stripe and ETLrobot integration. First, you can import all subscription and billing data. Then, you can use that data collection to get a better understanding of site visitors, subscription customers, invoices, and more. With this understanding, you can segment your subscriptions to review revenue allocation as well as enhance your efforts to personalize marketing and sales. Finally, you can combine that data with other data from CRM, billing, support, and sales to track customer lifetime value.
Do I need scripting or coding skills?
No, you don't need any technical skills to get the most from this integration. It's a simple and user-friendly process to collect, transfer, and manage and optimize your Stripe data.
How will my Stripe data be secured?
Throughout the process of collecting, transferring, and structuring your Stripe data, ETLrobot will apply multiple layers of security, including encryption.