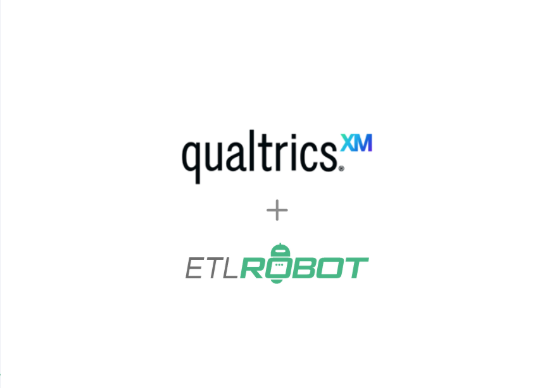 About
As a customizable survey software solution, Qualtrics helps over 11,000 companies manage activities, including customer experience, market research, and custom survey software, through four cores. Qualtrics CustomerXM manages customer feedback, Qualtrics EmployeeXM facilitates HR management, Qualtrics ProductXM helps businesses take product concepts from market assessment and testing to launch, and Qualtrics BrandXM offers relationship-building and marketing. Each of those cores produces its own set of data, and Qualtrics offers its own hub, called Qualtrics Core XM, to bring all that data together.
How the Qualtrics ETL works
The company understands that customers want to load data into their own platforms beyond just using Qualtrics Core XM. To load data from your own platform, you can connect ETLrobot to your Qualtrics account and unlock division, group, organization, user, and survey data. Extracting, transforming, and loading Qualtrics data about survey performance and responses into your own data warehouse enable a clearer picture of your customers.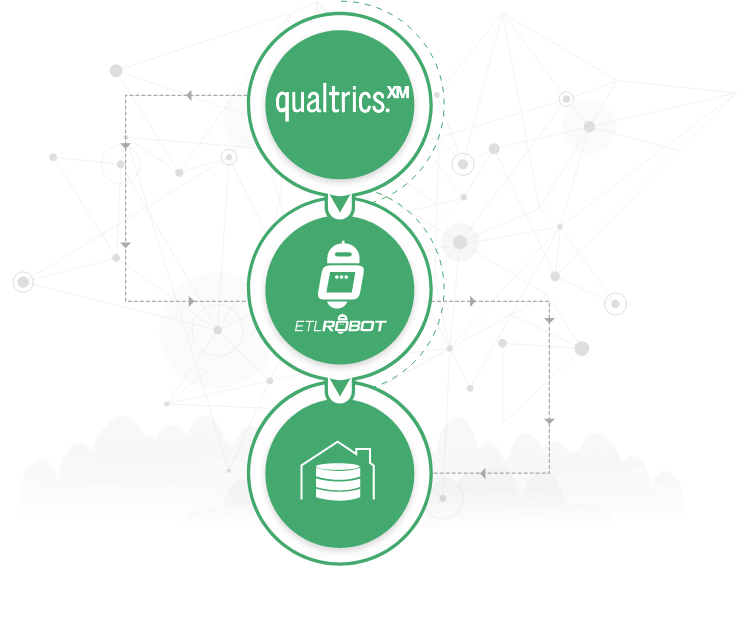 Frequently asked questions
How do I set up ETLrobot to work with my Qualtrics account?
Log into ETLrobot, click "Integrations," select "Qualtrics," select "Add Account" and expand "Connecting" to get simple connection instructions.
Can I use the reporting tools that I already know and use?
Yes, you can use reporting tools you are accustomed to because the data exists within your data warehouse. ETLrobot simply adds structure to the data located there, helping your reporting tools provide better insights.
How do I know my Qualtrics data is secure?
All your Qualtrics data is encrypted and then it is securely transferred to your data warehouse. To maximize data security, ETLrobot was designed as a data passthrough engine so your Qualtrics data is not stored on ETLrobot servers.