About
Used by more than a million businesses worldwide to power their online stores, Shopify allows anyone to create an e-commerce site without having to touch a line of code. This easy-to-use SaaS platform helps companies list products in their online shop, collect payments, and ship their products. Customers who use Shopify generate a large amount of data, including customer lists, order placements, products sold, inventory, refunds, abandoned shopping carts, and more. The data can be extracted and transformed to personalize email messages, shape social media marketing, and research product sales.
How the Shopify ETL Works
Although Shopify provides powerful analytics, the ability to extract that data and analyze it with third-party tools can provide the competitive advantage a small business needs. ETLrobot can deliver insights from your Shopify data about customers, orders, products, transactions, refunds, checkouts, and returns. In turn, those insights can elevate results from your investment in marketing, product portfolio design, inventory management, and more. You'll have access to a scalable data infrastructure in minutes without the need for technical skills to build the tools necessary for data modeling.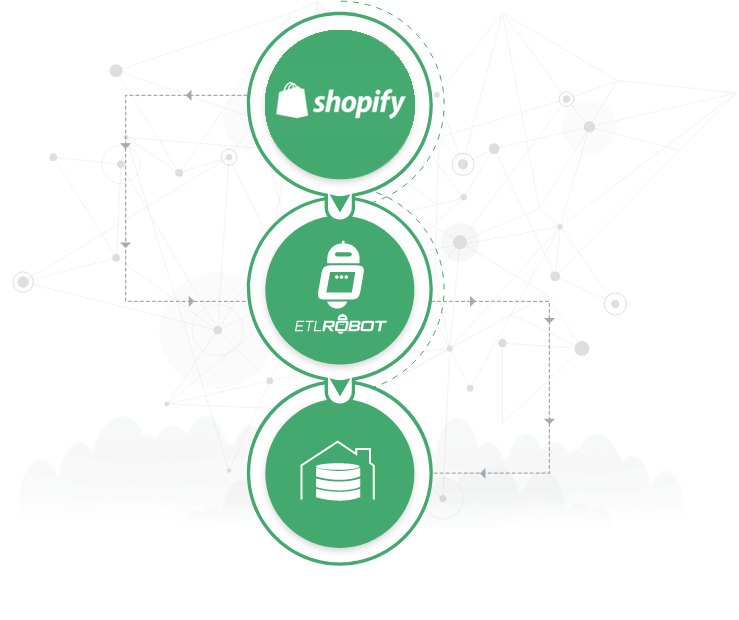 Frequently asked questions
Do I need to know how to code or script to complete this integration?
No, you don't need coding or scripting skills. In just a few clicks, your Shopify account and ETLrobot will be connected for data transfer and analysis.
How can I use this integration?
There are many use cases for the Shopify and ETLrobot integration. Get access to analytics-ready data to track sales, inventory, product, and shipment information. You can also better understand how your e-commerce efforts are performing all the way down to individual buyer interactions across touchpoints. As a result, you'll be able to optimize marketing campaigns and product listings as well as make better decisions about inventory.
Where do I get help if I'm having any issues with this integration?
Our documentation library and support team are available to address any potential issues that might arise.
How do I know that my Shopify data is secure?
We understand the importance of keeping sensitive data secure. That's why we use encryption and other layers of security to protect the data through collection, transfer, and analysis. We never store your data on ETLrobot servers but instead leave that data in your data warehouse.