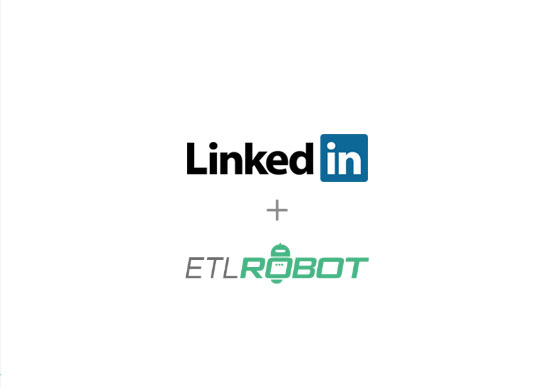 About
As a site for professional networking, LinkedIn members leverage the channel for jobs, funding, talent acquisition, industry knowledge, and connection with industry colleagues. The site is also a popular advertising platform for generating brand awareness and engagement. However, the LinkedIn Ads dashboard only offers minimal information about your advertisement data.
How the LinkedIn Ads ETL Works
Integrating ETLrobot with your LinkedIn account can help you access data about your advertising campaigns, advertising analytics, and the size and scope of your advertising audience. Tapping into information about advertising performance, outreach effectiveness, and how LinkedIn ads data compares to other ads and sales-related data sources can help direct efforts and improve results. When you combine your LinkedIn Ads data with other data in your data warehouse that originate with marketing and sales, you'll get a better understanding about the effectiveness of your ad spend, overall business performance, and return on investment from your marketing tactics.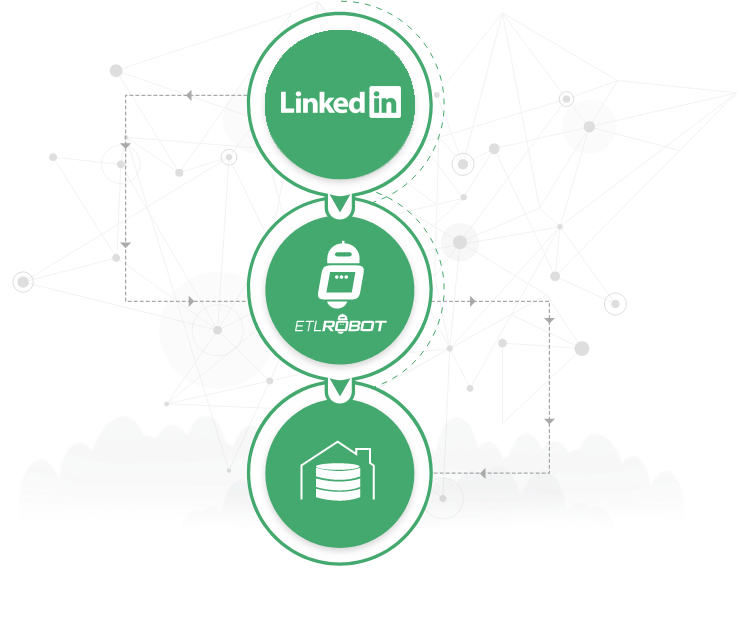 Frequently asked questions
What are the main benefits of the LinkedIn Ads and ETL integration?
Leveraging this integration will simplify and speed the development of a comprehensive data infrastructure that can hold and organize your data. This gives you more time looking at a comprehensive business view and working with accurate, real-time metrics to inform your business decisions.
How can you use this integration to help achieve business goals?
The structured data made available through this integration offers valuable insights about advertisement campaign performance, including how your ad spend compares to your marketing return on investment. You can also combine the available data with other ad network data for further insights. Another advantage is that you'll see the lifetime value of your customers to help adapt your strategies and reframe business goals.
Does this integration require coding?
No coding is required to integrate your LinkedIn Ads account with ETLrobot. Instead, it's a matter of a few clicks and easy-to-follow login instructions.
How do I get started with the integration process?
It's simply a matter of identifying your LinkedIn Ads as your data source and the ETLrobot as your data warehouse. From there, ETLrobot does the rest.