About
Google Ads (formerly known as Google AdWords) is a widely used advertising platform that businesses of all sizes across industries use to generate awareness and revenue. While Google Analytics will show the effectiveness of a Google Ads campaign, the information stored directly in your Google Ads account is much more detailed. The data includes keyword values and responsiveness as well as the results of different ad copy. Running a Google Ads campaign is a complex process that requires experimentation and testing. You need to track your results carefully and make adjustments to achieve the right mix of targeting and messaging.
How the Google Ads ETL Works
Integrating ETLrobot with your Google Ads account will provide more comprehensive information about accounts, campaigns, ad groups, and ads. By combining this information with your sales data, you'll get a clearer picture of the impact Google Ads has on sales, leveraging ad spend information to assess individual ad campaign performance. Combine this data with other company data, including CRM, support, customer, and billing information, can provide a clearer picture of your customer lifetime value.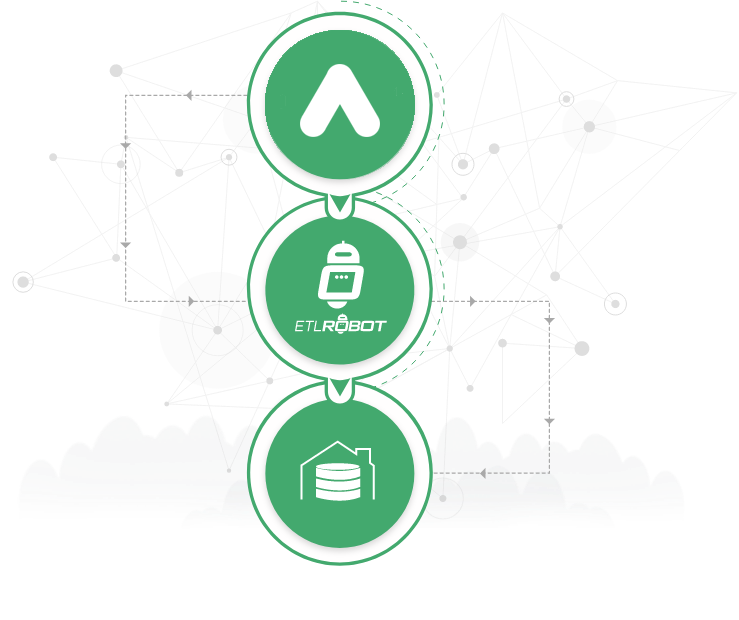 Frequently asked questions
How do I connect my Google Ads account to ETLrobot?
The process of connecting your Google Ads account to ETL takes just minutes and only requires a login process to authorize the integration.
Where does my Google Ads data get stored?
All your Google Ads data remains in your data warehouse so you have complete control over the information at all times.
Do I need coding skills to manage and organize the data?
You don't need any technical skills because ETLrobot takes care of the heavy lifting of transferring and structuring your Google Ads data.
What security measures are used to protect my Google Ads data during transfer and storage?
Encryption and other layers of security protect your Google Ads data while in transit to your data warehouse. Plus, we don't store your data on our ETLrobot servers.